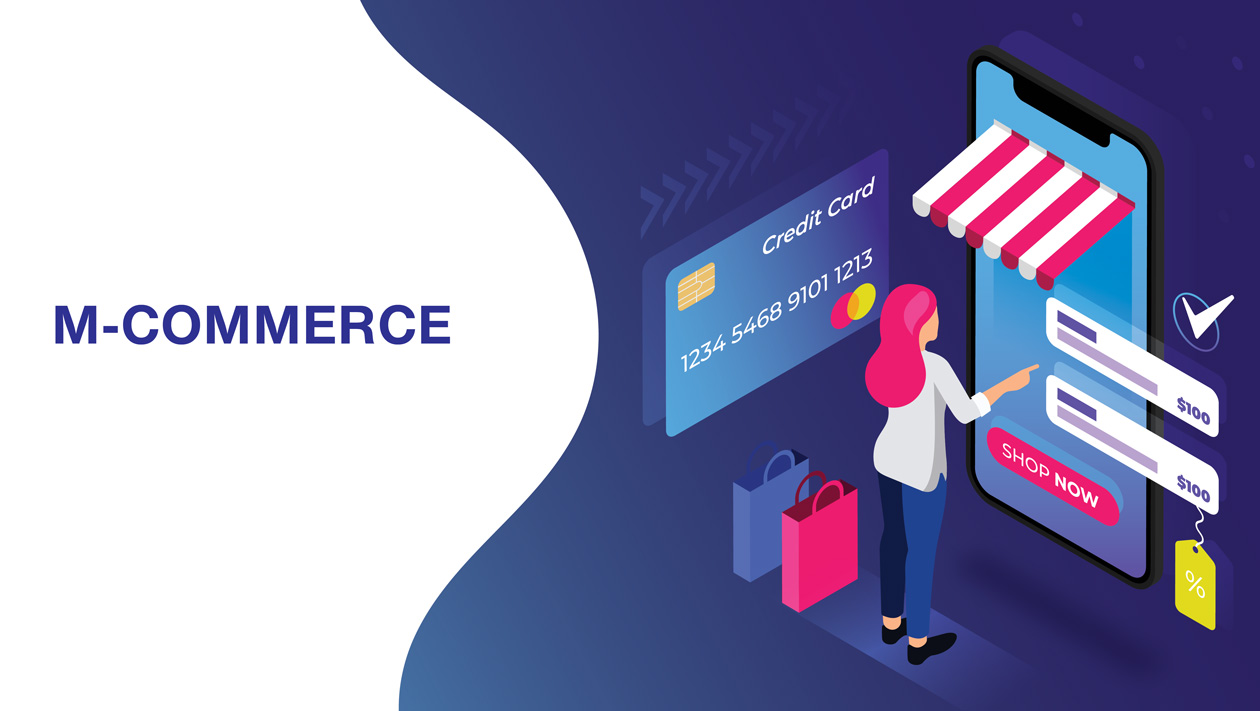 Mobile commerce is

not replacing ecommerce, but

a

larger portion

of ecommerce

transactions are now coming from

mobile

devices.
What

is mobile commerce?
Mobile commerce, also called M-commerce, Mobile commerce transactions continue to grow, and the term includes any monetary transaction using a mobile device.
It is an advancement of ecommerce, which enables people to buy and sell goods from almost anywhere, by just using a mobile phone or tablet device.
Types

of mobile commerce
While m-commerce covers a wide variety of transactions, they can all be categorized as one of three different forms of mobile commerce.
Mobile

Shopping: Mostly similar

to ecommerce,

but accessible via a mobile device, it is possible through mobile optimized shopping websites, internet based mobile applications, or even social media platforms.
Mobile banking: Same as online banking, it enables users

to

interact with

the

bank

and

maintain all account actions, some

transaction

types might be limited or restricted on your mobile device.

Most of the time

it involves a dedicated mobile application.

Mobile

payments: Also known

as "mobile

wallet".

Mobile payments are

regulated transactions that is performed digitally via

a mobile

device, they're secure, fast,

and

convenient.
Benefits

of Mobile Commerce
Includes delivering convenience, improving sales, and keep your customers loyal. Rather than stopping at an ATM for cash or purse with credit cards, you can easily use your smartphones to complete transactions.
Better customer experience: Think about

how long

it

takes to

go

to the

store.

You

have

to

drive or walk there or take public transportation, take time walking around the store, stand in line to pay, then make your way back home. Because it matters, Ecommerce made customer shopping much easier.
Consumers are now have access to :
A wider variety of products.
More competitive pricing.

All

without

ever

having to step away from their

computer.
With mobile commerce, with just some few clicks on any mobile device, customers can still get these benefits, but now they don't need a computer.
As long as they have a mobile device, they can shop any where, anytime .
Attracts new customers:

Another

advantage

of using mobile commerce

is that there's always the posibility to bring in new customers. An optimized site is not just one that retains your current customer base, but it's

also

one that

attracts

new customers who

come

across

your

store and find it appealing.
M-commerce also benefits retailers by many of their outstanding features compared with responsive website and mobile site.

New mobile commerce applications that enhance the customer experience even further include:
Augmented reality Ikea is

one

of the top retailers

using AR

app

to enhance

their mobile commerce

business.

Chatbots and messenger apps which

is making it

easier

for

businesses to

interact

with their customers either using in-app chat or communication services their customers already use.
Virtual Reality is one of the big things in the world of commerce, shaking up the whole industry.
From a customer standpoint, the biggest benefit is simplicity and speed. The easier overall buying process on the app

is, the

more sales it brings
Direct

connection to customers:

Connect

with your audience right

through their desktop

and mobile devices, either using

browser or your

mobile

app.

Save your time, money, and resources. Enhance your marketing strategy through Push Notifications sent directly to the users.
Growing market = High ROI: Billions of people go online every month via their phone, and every one of them could be a new potential customer for you. Each customer you impress could very likely encourage another customer to make a purchase from your site.
Cost reduction: By reaching your audience mcush faster using a mobile app you obviously cut down marketing campaign costs. If an app has social media integration, users will do their part too in spreading the word. You can even earn from placing ads within your app later .
Conclusion
The success and popularity of mobile commerce can't be ignored and mobile applications continue to expand. From Internet browsing, social networking, shopping and more, mobile apps are playing a big role in engaging people with services and each other.
Over 1 billion people use smartphones to go online every day, and mobile shopping is trending as never before.
wouldn't you rather get in now rather than have to play catch up later on?
ITS YOUR CALL NOW TO TAKE YOU BUSINESS TO THE NEXT LEVEL.